The Spoon Gathering
This past weekend I attended the Spoon Gathering in Milan Mn. For those who don't know, this is the only event dedicated to wooden spoons and spoon carving in the U.S. I have posted on this event a few times before, and this year was another great time. It is also good to meet up with what I call "spoonfreaks".....folks who lay in bed at night thinking about wooden spoon design, or will travel hundreds of miles to talk about wooden spoons for days on end. We were there. On Saturday night there were a few folks still carving at 2 am, riding the inspirational energy of the event. What a blast! I had a fantastic time with old and new friends, carved a few spoons and turned a few bowls on the spring pole lathe. Evenings were filled with laughter and general camaraderie around the fire and a potluck feast full of so much great and tasty food. After the welcoming intro to the event and a quick walk around to take a few photos of the spoons on display, I had little time to document the many demonstrations that happened all weekend. So what I present here is a small overview of some of the spoons, not all.
Tim Cooper's spoons
This beauty is the type of antique spoon that really inspire my designs.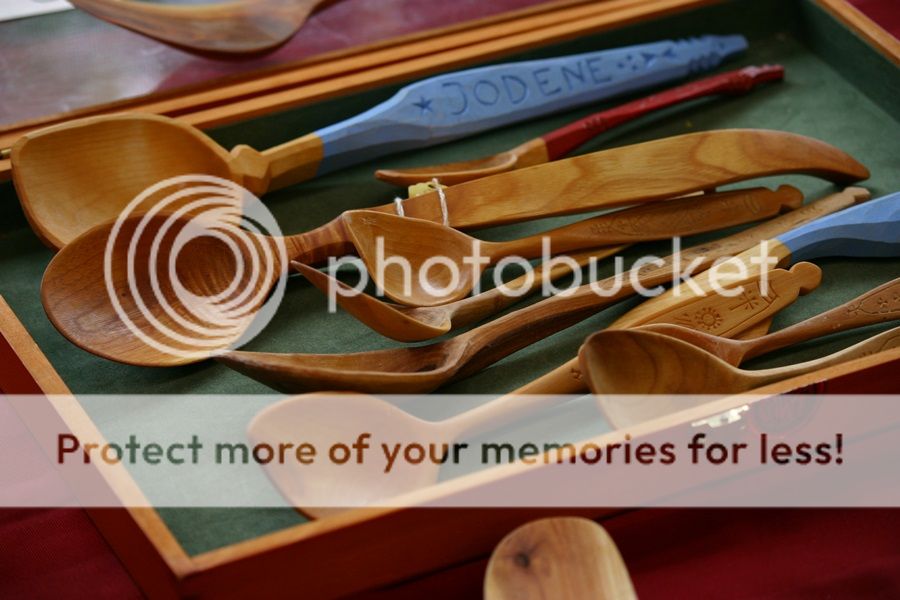 These 2 guys' spoons always seem to be around..and rightfully so, plus one spoon from the late Frank Foltz's the inspiration for the first spoon gathering
Mike Loeffler lives up to his name, it means spoon carver.
Mike Loeffler's innovative spoon rack